The flame will be extinguished because of the loss of heat after going through the narrow pores of the heat conductor. The Flashback Arrestor is designed and manufactured using this principle.
The function of flame arrestor is to prevent the outside flame from channeling into the flammable and explosive gas equipment, or to prevent the flame from spreading between the equipment and the pipeline.
A flashback arrestor or flame arrestor is a device most commonly used in oxy-fuel welding and cutting to stop the flame from burning back up into the equipment and causing damage or explosions. Popular models of flashbac arrestors are like 188 type, 288 type, and 588 type.
Packaging: Standard export package or Customized
Payment: L/C,D/P,T/T,Western Union
Delivery: NINGBO CHINA, 30 days after payment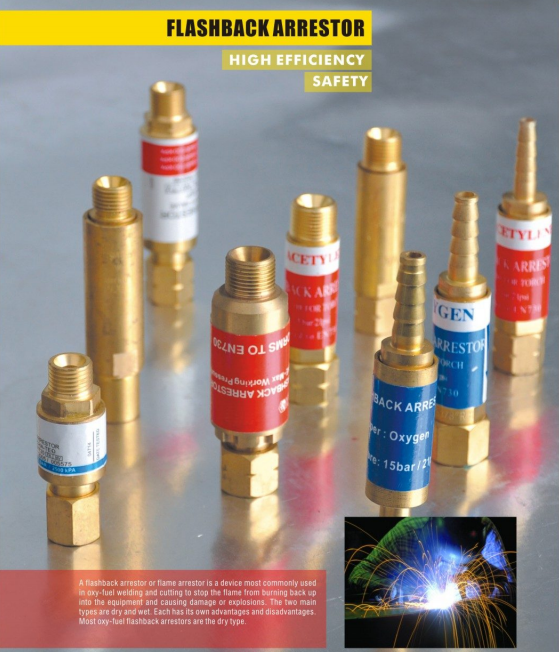 | | | | | | |
| --- | --- | --- | --- | --- | --- |
| Model No | For | Gas | Max. Flow | Max. Inlet Pressure | Thread connection |
| ANME | | | Lt/H | (bar) | |
| 188-R | Torch | Oxygen | 3-10 | 0.2-0.35 | 9/16" x18 R.H. |
| 188-L | Torch | Fuel gas | 10-25 | 0.3-0.5 | 9/16" x18 L.H. |
| 288-R | Regulator | Oxygen | 25-40 | 0.4-0.55 | 9/16" x18 R.H. |
| 288-L | Regulator | Fuel gas | 40-60 | 0.45-0.6 | 9/16" x18 L.H. |